We made it into Cambodia. It took us about a day an a half to get here from Koh Tao but we are finally in Siem Reap. We came here obviously to see temples of Angkor and move on to Vietnam but we came here couple of days before The Khmer New Year so we ended up staying in Cambodia for about 10 days. Which was good as we had a chance to get to know the country a bit better.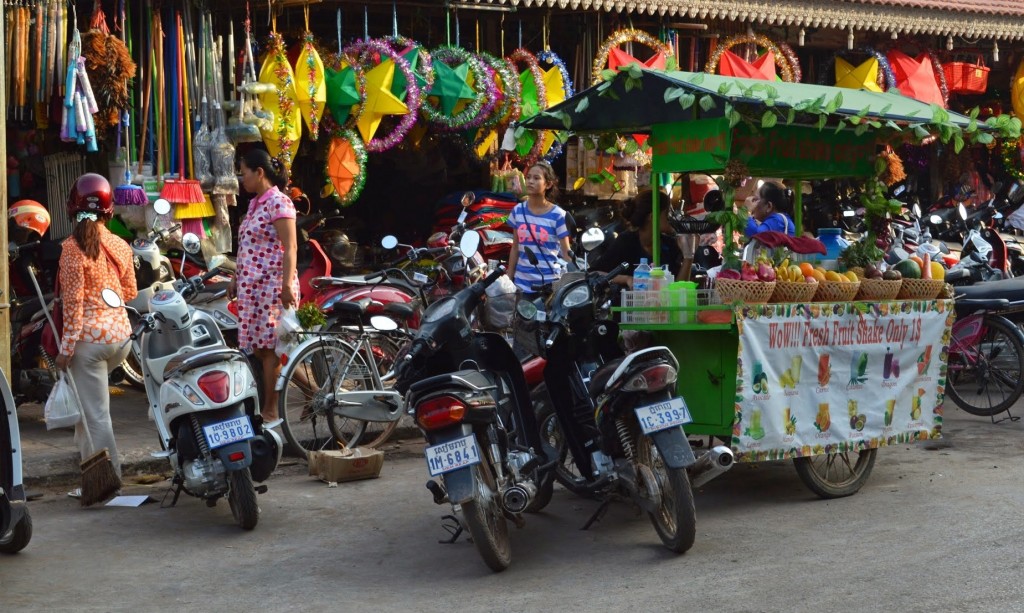 Cambodia is a land of contrast, lovely people and tragic history. So if you read the previous post/rant than you know our first impression of Cambodia was rather "meh" or possibly worse. We thought we will give it a second go since we have been really tired and grumpy to start with. A good night sleep and a strong coffee next day should do the trick.
In the early morning (which is around 10am for us) we took off on foot to walk around the city. The usual Tuk Tuk and massage offers were plentiful and as it turned out we grown used to the motion of saying "no thank you" even if the person follows you for the next two blocks. Persistence is the key. As we strolled around we started to really enjoy Siem Reaps diversity of the views, street vendors with array of foods and random merchandise in their baskets and little art galleries littered along the streets.
Our first stop was the day market. In the narrow lanes of this roofed chaos you can find a thousand and one things to buy. From jewellery and art through various (some unidentified) foods and digital gear outlets. It covers a vast area and you can easily loose yourself there for couple of hours. Which we did. We left with smiles on our faces + one t-shirt, one scarf and two pretty coconut bowls.
Siem Reap just gained +10 to attractiveness.
It's time to eat. For lunch we went to a street with as many restaurants as there is stars in American flag. And that's all fitted along about 200 meters! We sit down and as we browse the menu we find frogs. Fancy trying something new? Let's do it then! Once the reptiles arrive we hesitated with the first bite a bit. Soon enough after munching on frogs calf we come to the conclusion: It tastes like chicken! And we munch some more.As main dish we fancy something local like Amok which is supposed to be Cambodia's signature dish. It's fish in rice with veg and spices. I'm not a fan of fish myself and since Anna loves me we went for a version with chicken being first assured that it's as delicious. Amok takes your taste buds on a journey and explains how Cambodians eat simple meals and at the same time make them special.
Amok +10 to "let's eat it again soon".
With full bellies we move onto famous Pub Street. You wouldn't guess what we found there: Pubs! Basically arranged by the same rule as the restaurant street – lots and everywhere. We chilled for a while with a cold one and taken advantage of the free Wi-Fi to catch up on worldly affairs. After a refreshing drink it's time to start slowly head back to the hotel as the evening is already here and by now we can feel that we haven't exactly recovered from the strainous trip the day before. However on our way back we stumbled upon a happy discovery of the night market already running and luring us with amazing smells of snacks and spices.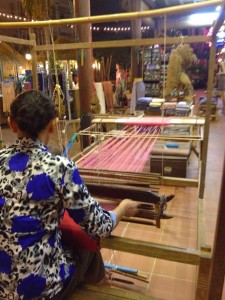 As we enter this stunningly looking open air and slightly Spanish style place we are immediately taken by it. Browsing through fine art, figurines, hand made clothes, handbags and rattan baskets we come across a lady weaving some mighty fine looking drapes. She didn't seem to mind that we stared at her working for well over 10 minutes and with our jaws dropped. Splendid experience!
With all the amazement of exploring the city under our belt we decide to wrap for the day and get the much needed rest.
See you again tomorrow Siem Reap!