12/10/13 – Sorrento Situated on a terrace overlooking the splendid Amalfi coastline, Sorrento is imbued with charm and echoes of the ancient past. Its position is perfect, affording a stunning panorama of the bay of Naples, but its list of attributes is replete. Parks, villas, orange, lemon and olive groves, picturesque narrow streets and resplendent weather… Italy Guides
We managed to get there in the afternoon so we've unpacked at Blurooms hotel and went through the town. In words of Dejan Stojanovic, Sorrento:
In a dream I had, my ideal woman had chosen Sorrento, on the Amalfi Coast, as a good place to forget the rest of the world and enjoy the constantly dreamy Adriatic and its Sun. To envision the passage of time and listen to the whispers of the sea which heard stories of lovers, passengers, strangers, sailors and was not shy to tell us some.

Disappearing in time and space, on the Piazza Tasso, swallowed by the Mediterranean spleen, in a state of instant epiphany, we saw the light in a new light. We heard history while gazing at the sea. 

In a dreamy and mystical Sorrento borne from the sea, plants and trees told us their stories too—agave and the palm tree, lemon, pomegranate, figs, ancient olive trees—and how many affairs and tears they witnessed in all the years of Sorrento. 
Nowadays very posh but cute. Same dramatic view over port and the sea. Sorrento is a land of lemon. Lemon trees, lemon soveniurs, lemon vodka, lemon everywhere. The cherry on the top is the fact that St. Anna is a patron of the city!
We ended up in open air restaurant with a very good and most of all smiley happy and positive signer. She was signing covers of popular songs with a country style twist. We had such a romantic dinner listening and signing along with her and to each other… you do need moments like that filled with magic and romance, that let's you appreciate each other even more… Moments where you can tell that someone important how much they mean to you… I love you babe and if it's quite alright I …. baby…

13/10/13 – Massa Lubressa
Ok today is the day! I'm gonna wake up in the morning and go for a run! It was indeed a lovely idea! Sorrento is a bit hilly but on my way I managed to enjoy some unforgettable and panoramic places. It was a perfect day for running, I also managed to get some fresh breakfast on my way back which we've enjoyed on our small terrace.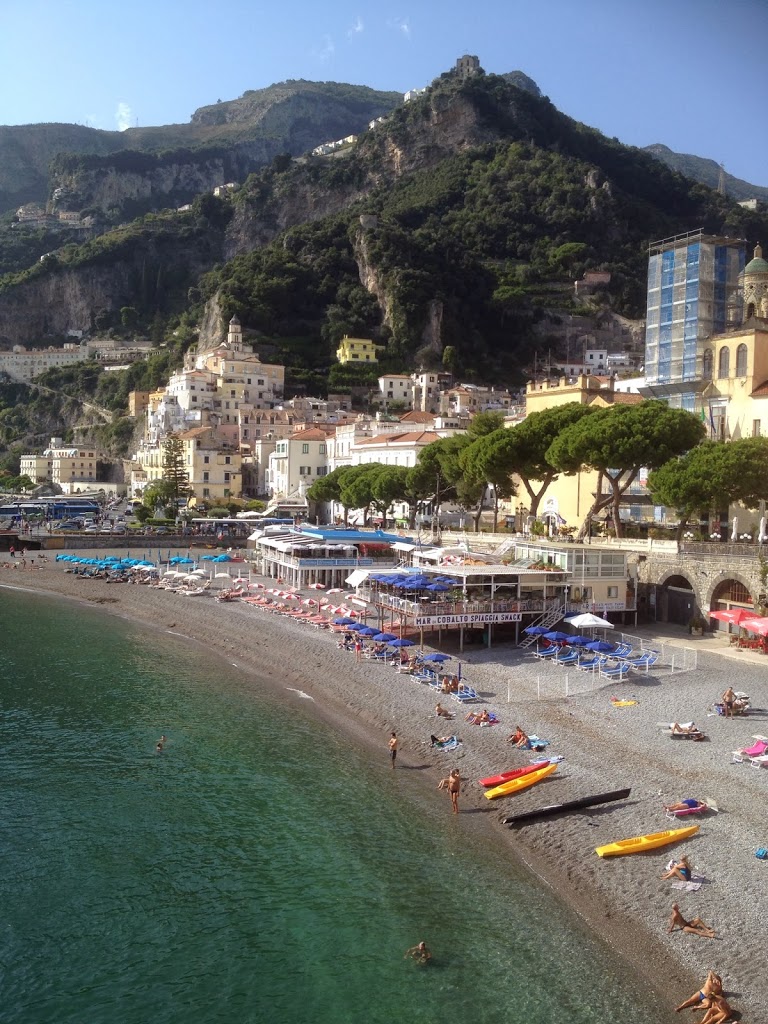 We were pretty convinced that Amalfi Coast is to the left so we took the road up the hill with some very picturesque views over the Sorrento Bay and the whole Gulf of Napoli with the majestic Vesuvius on the horizon. We walked a lot that day, did probably about 10km. What seamed like a dream when we got to Massa Lubressa was a sip or two of cold coke or a beer! What a treat that was! Funny how small everyday things put in a different perspective can make you so very happy! 😀
After all it wasn't really a route to Amalfi but it was a lovely day which ended up with drinking the Limmonette vodka that we bought a day before! We did that and we called our siblings. By the time we've started talking with my brother I was already very happy and could not – for a world – pronounce the word 'dwusetny'. I was in tears laughing and twisting my tongue trying to say it. SO MUCH FUN – OMG!!! :)))
14/10/13 – Amalfi Coast
Anyone visiting Sorrento has to take the boat trip to Capri. It's a definitive must see destination. People usually pay about €30 for a ship to take them to Capri and back. This was initially our plan as well but it wasn't really too adventurous and on this trip I haven't really done any of 'adventurous'.  A bit of explanation. For me any backpacking trip, any holiday break I take except for the obvious things that give it a flavour like: visiting new beautiful or interesting places, meeting and making friends with people, tasting new sometimes very strange food… These all are great but there really need to be something that makes your heart beat faster, that brings a bit of adrenaline, a bit of something new that takes me completely out of my comfort zone. These are the best and are very important part of my holiday. Examples? Sometimes it's the hitchhiking or couchsurfing, sometimes it's a long bike ride that ends up with walking all night, doing about 25km in complete darkness, by the busy road with white horses running at you! That's what I'm talking about! I need a bit of an adventure! So instead of booking a ticket for the ship we've decided to rent a boat! Luckily for us in Italy they will let you rent a small boat without a licence, even without any experience! Terrified we've decided to give ourselves one more day before dying at the sea and we took off for a bus ride to Amalfi coast!
We should have really started the day early to be able to see the whole coast but we've decided to do the washing so Jacob headed for the Wash & Dry. It took us 3h and everything was still very much dump but it was our first ever time at public laundry! Yee ha!
We were kind of expecting to see some nice landscape on our way but what we have seen has totally exceeded our expectations. Very dramatic and spectacular landscape, I'll leave it to a poet to describe how perfect that was:
"A dream place that isn't quite real when you are there but becomes beckoningly real after you are gone." 
"The picture-perfect towns along Italy's Amalfi Coast do belong solely to the angels in their otherworldly beauty."
"Spread your wings along the dramatic Blue Highway serpentining its way south of Sorrento. The Amalfi Drive, "the road with 1,001 turns," is the most precipitous road in Europe with vertigo-inducing vistas plunging down jagged cliffs into the azure Tyrrhenian Sea. Levitate over heavenly Positano from the perch of the Madonna which reigns over the town's tiered cascade of salmon, cream and vanilla houses tumbling like a waterfall into the Bay of Positano. Built vertically on the face of a mountain, Positano began as an isolated fishing village but became the favorite of the international jet set in the 1960s after the Kennedys came to stay." Amalfi coast
Simply marvellous!!! And I can honestly say it was the most beautiful place I have ever seen!We went pass Positano and continue to Amalfi where we have spent a lovely afternoon and took a swimming in the sea. Not very warm it does star to feel a bit like Autumn here. On a way back we've stopped at Positano and went quickly through the town to be sure we can catch the last bus to Sorrento.  Lovely pictures and information bout Amalfi Coast can also be found here Amalfi Coast – Italy.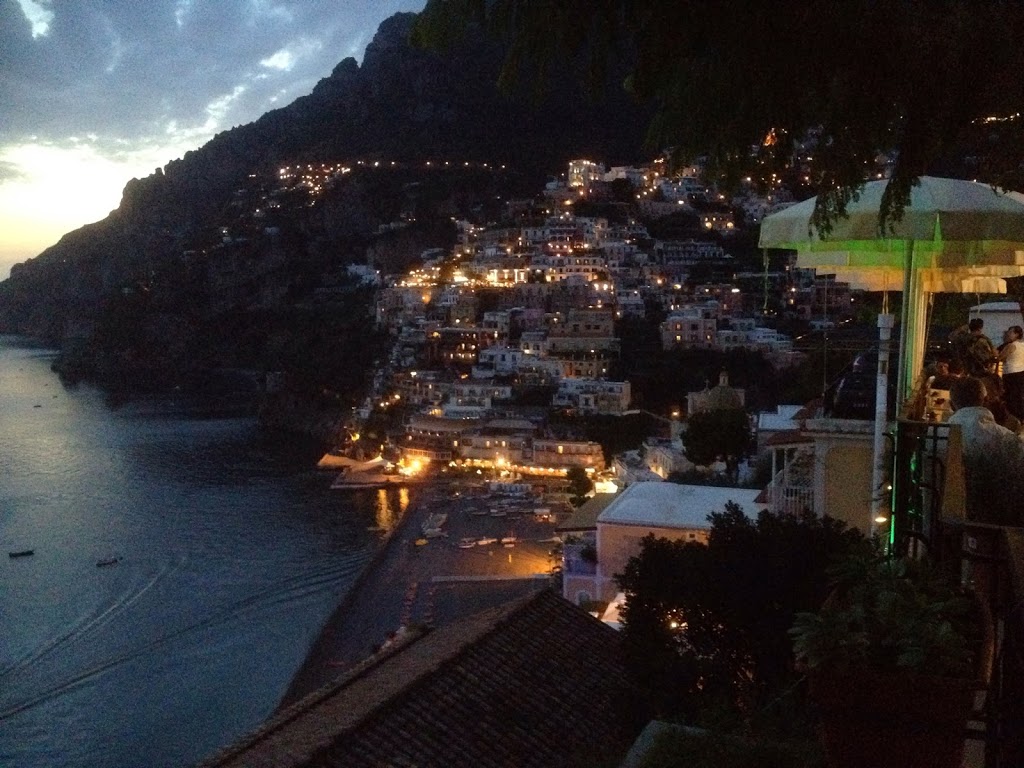 We've met a friendly couple from California. It was their 25th wedding anniversary trip to Europe, first one was their honey moon in New Zealand 25 years ago. We all had a bit of mumble about luck if traffic laws in Italy and share the same feelings about Napoli. Let's call it 'an interesting city'. They were heading for Rome next day and to Paris where their daughter studies. Back to Sorrento we decided we need some meet! No more pizza or pasta! We went for Kebabs!