Koh Tao with it's slightly hilly and dramatic landscape, the white sand beaches with shallow, clear, warm sea was one of the best places to do snorkeling we have seen so far and i can honestly say Koh Tao is Mother Earth at her finest!  We set off from Koh Lanta around midday of 1st of April on a  mini bus to Krabi. We had to hang around there for couple of hours and around 4PM were taken in another minibus outside Krabi where we had to wait for another couple of hours for a big air-conditioned bus. It was around 6PM when we finally got on a bus and were very keen to fall asleep quickly.
Rain hitting on the roof of the bus kept us up for a while. The same sound as the one I used to listen to while at my rooftop flat back in Zakopane. It felt good, I could close my eyes and feel completely like back home. After the long trip we had already behind us it made me feel a bit more at ease. Completely dark out the windows, only some small house lights by the road and occasional big street markets or a gas station. The land covered in darkness, falling to sleep. We got to the ferry by 9.30PM. The ferry was leaving an hour later.
So far the journey was actually ok apart from two annoying things. During the night drive our drivers stopped couple of times and decided that actually everyone should get off and eat at their friends restaurant so they have turned off the air-con completely making it pretty impossible to stay inside. When we got to the port they thought it would be a perfect idea to lock us inside, get all our backpacks out on the street and while locked out start slowly passing the ferry tickets. Like this couldn't be done outside without scaring the shit out of some of us.
Anyway we got to the night ferry. It was a nice surprise. First of all there was a night market by the port, perfect to have a quick snack, some fruits before the next part of the journey. The ferry itself had couple of lower decks for transporting various goods to the island. Building materials, water, eggs, fresh flowers… pretty much anything. Top two decks were like a big 60 people dorm rooms in a hostel. Everyone had assigned beds and a fairy blanket. Teddy bears, stars, hearts – all in lovely bright colours… pink and yellow were among the favourites. The dorm had an air con but only at one side of the room so it was pretty sweaty all the way to Koh Tao. Still we managed to fall a sleep quickly and woke up just before 6AM just as we were arriving at Koh Tao.
The port itself was fairly industrial. We were welcomed by number of tuk tuk drives obviously which we didn't realy wanted to use so we decided to walk the 2km to the Sairee Beach and our hotel. We don't really learn from our mistakes (see Koh Lanta) and we though it won't be that hot at 6AM. That obviously wasn't a good idea and it definately wasn't just 2km. Luckily only about 1km down the line, we got a cab and after a bit of bargining got to our hotel flying at the back of a jeep.
Hotel was open from 7AM but we could only check in at 11, so we left our bags and desprate for shower headed down to the beach. OMG what a beach! Crystal clear water, plenty of fish and corals and some black spiky cactus like creatures under water. That swim on the Koh Tao's beach was epic and absolute highlight of our tirp so far! Beautiful and so peacefull at this time of the day! We stayed there enjoying the quiet mornig and later went for a b'fast by the beach with a stunning, absolutely ridiculous view!!!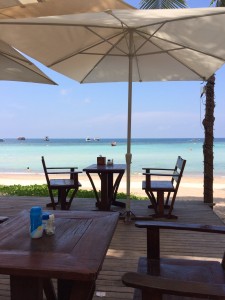 We have two types of days here.We either try to barley do anything or we fit as many activities and attractions as humanly possible – all in one day 🙂 First day at Koh Tao was among the latter.
After early snorkling and swiming we went to do some sightseeing. Decided to go to the very north part of the island. At the end of the route there is an impressive view on the Koh Nang Yuan islands and a nice resort with lovely swimming pools and restaurant (Dusit Buncha Resort – defiantely stay there if you can). Coming down from the resort to the sea level, there are lovely rocky platforms and bridges that lead you down to the water… You can see fish even without going underwater but underwater it was absolutely stunning! We thought the morning snorkeling was great, but this was extraordinary!!! Such a variety of fish and the reef! Wow!!!
We've spent there a good while, watched the sunset over the Nang Yuan and decided to go on a snorekling tour the next day. We've booked the trip at our hotel and were picked up at about 8.30 the following day.
Ready first thing in the morning, waitting at the reception of our hotel, it turned out that there are also 3 other people from our hotel that are going on the same snorkeling tour. A lovely German couple Lars and Liane, together with Liane's brother. There have been traveling for almost 2 years now, yes! 2 years! Traveling and working in various places around the globe. They take with them also Bob, the adventures golf ball. Check out their website and the post about our Koh Tao day snorkeling tour – really good read.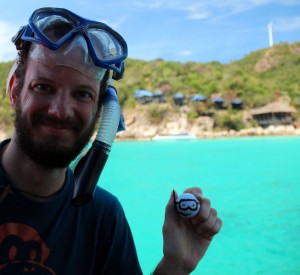 We had very similar experinece to them; i've seen a shark – yay! we've seen lovely corals and plenty of intresting fish that we've never seen before. Fish schools are amazing to watch! And to top it all up we were lucky enough to swim about 5m above a stingray that was swimming at the bottom of the Mango Bay. Stingrays are such a graceful, fantastic animals!
We've spent pretty much most of the day with our head down in the water! And of course forgot to put the sunscreen on (ok we really wanted a have a sun tan)! By the time we got to the Koh Nang Yuan I had a heat stroke! I could not go to the view point, Jakub went on his own. I was drinking fluids and tried to recover at least a bit but it's only when we got back to the boat and I managed to lay down for a bit that I started to be comming around. Still the following day, I was avoiding the sun as if I was turning into a vampire. We also had stage 2 burns. It's only after few days that Jakub found blisters on his legs, despite of all the lotion he put on them. Fun times.
The following two days we've spent relaxing and taking small walks after the sunset until it was time to go back to Bangkok again so we can get to Cambodia. Now that was a fun trip.