I am hoping this can be a short list of things we focused on when planning our backpacking trip or in other words things we had to buy and organise before travelling e.g. backpacks, mosquito belts etc. This will hopefully give an idea of what we thought we needed, how much it costed and what turned out to be useful and what didn't. Who knows maybe it will help someone who is also planning to go on a similar trip.
Backpacks – Osprey Farpoint 70l
I must admit I am a bit of a freak when it comes to backpacks, so I've spent weeks to research which one would be the best for us. Plus to be completely honest I love outdoor shops and I can spend hours walking around, dreaming about all the adventures I could have. So I did spent a lot of time testing & checking various backpacks!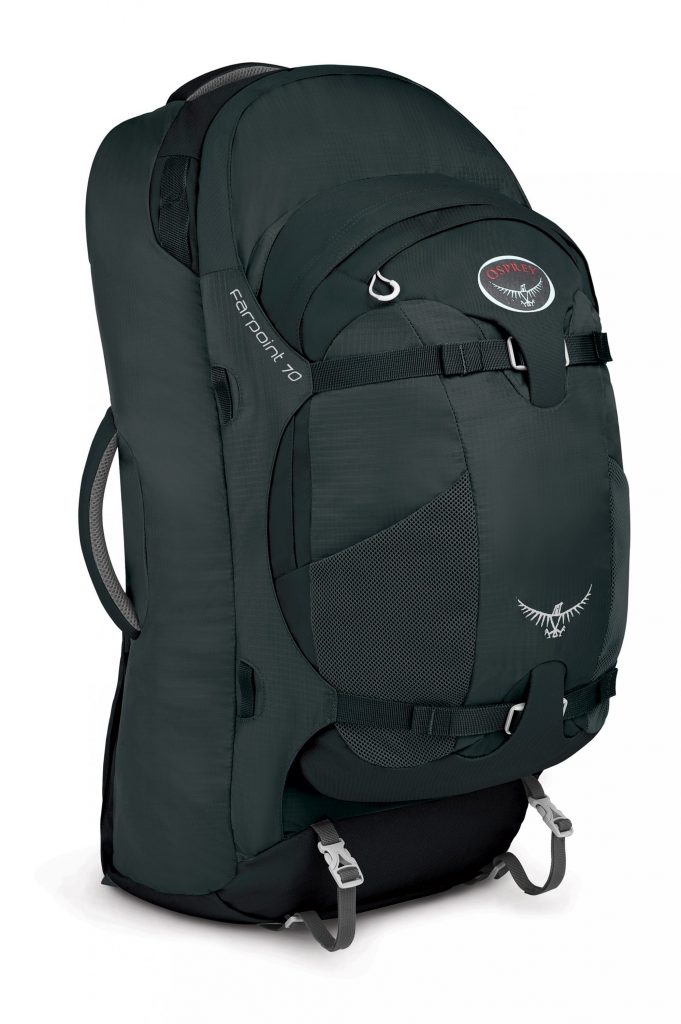 Even though I like some of them more then the others, I mean come on this is a beauty!!! I have set my eyes on this Osprey Farpoint 70l as it seams like the best fit for what we need. The cheapest i could find was on Amazon for £109 each but luckily we went to the Adventure Travel Show in January and we struck a bargain getting two backpacks for £160 with a massive discount from the Nomad Travel shop.
Things that we found important:
Front Panel Access – as we will be packing and unpacking on daily basis we found the front panel zip access to main compartment a very useful thing, it gives an easy access to the whole content of the backpack;
Zip away harness and hipbelt – love the fact that you can hide these away and safely drop your bag at the airport not worrying about the strips getting caught up somewhere;
Day Pack – I really love how nit and well though through the backpack is, especially the detachable day back that can be zipped to the main pack and attached to the straps from the front if needed;
Size – 70l gives me about 55l for the main pack and 15l for the day pack. Obviously I am not planning to take all of the 70l with me but I'd like to have the capacity nevertheless, knowing i can comfortably pack half of it and have space for any unexpected shopping 😉
Whistle – a nice to have definitely but it just shows how much thought was put into the design. In case of the emergency the daypack strap has a whistle – whoo hoo! 🙂
Update: These backpacks are fantastic! We loved the size and the durability of the Osprey! It went through dust, heat and rain with us and it didn't fail us! PS. One tip only: do get a bag tag for your Osprey – these backpacks are VERY popular among backpackers in South East Asia! 🙂

Would we take it again? – Definitely!
---
Water Bottle – Water-to-Go
This is a filtration system that claims to: filter 99.9% of contaminants for travellers, commuters and healthy people everywhere – unique NASA technology, tested and used globally. Read more about all the research at Water-to-Go Facts page. We thought we will try to avoid buying tones of plastic bottles and assure we always have water at our hand and stay hydrated 🙂 so we've decided to give it a go and bought two.
Again thanks to the Adventure Travel Show we have managed to get a good deal and paid £25 a bottle plus twin pack replacement filters for free which would usually cost extra£18.
Update: Water to Go bottles served us really well, the water is pure and tasty no matter what you pour into it! We wanted to replace the nasty bottled water completely and use only Water to Go but it wasn't quite possible. First of all you can't really pour water out of it, you have to drink from it and secondly it doesn't hold as much water as you really need to drink daily being in SE Asia. It did however saved us on number of occasions when we forgot bottled water or were too far from any place where we could buy it. PS: Remember to replenish the missing electrolytes!

Would we take it again? – Yes, but only one bottle for both of us, for emergency only!
---
Other Small Equipment
Adjustable Waist Belt £4 each
Would we take it again? – Definitely! It was a perfect way to carry money around!
Backpack Waterproof cover £2 each
Would we take it again? – Yes! Can be very useful especially if your backpack travels on a bus roof top when it's raining 🙂
Karrimor Dry Bag £5 each
Would we take it again? – Yes! It did come handy many times but you can buy a really good and cheap once on almost any island.
Gelert Mosquito Net £10
Would we take it again? – Maybe. Haven't actually used it but who knows where you end up 🙂
Hair dryer – bad hair day ruins my day so i don't care if it's stupid or not, i'm taking it! Old one so i can throw it away if i don't need it.
Would we take it again? – No freaking way! I had to chuck it away after the first week – too heavy and useless!!!
How about vaccines, malaria tablets, flights, insurance and hotels? Please read the Useful (k)nowledge to find out more.