As our third day in Thailand slowly comes to an end, we are sitting on a train that will take us south, close to Krabi and the island that we want to visit; the famous Koh Phi Phi.
So far it has been… interesting, surprising, confusing and emotional. Let's just say that Bangkok and us, we didn't really get off on a right foot. And to be absolutely honest it was as much BKK fault as it was our own ignorance. The few things we can say in our own defense is that we've been tired, jet lagged and too busy before the arrival to do much research about the country. Plus we've never really been anywhere outside of Europe.
We arrived on Monday 16th of March, late in the evening and went straight to the hotel and to bed. Thanks to gods for fans and aircon it's so hot! We've spent the next 3 days in BKK.
17/03 Tuesday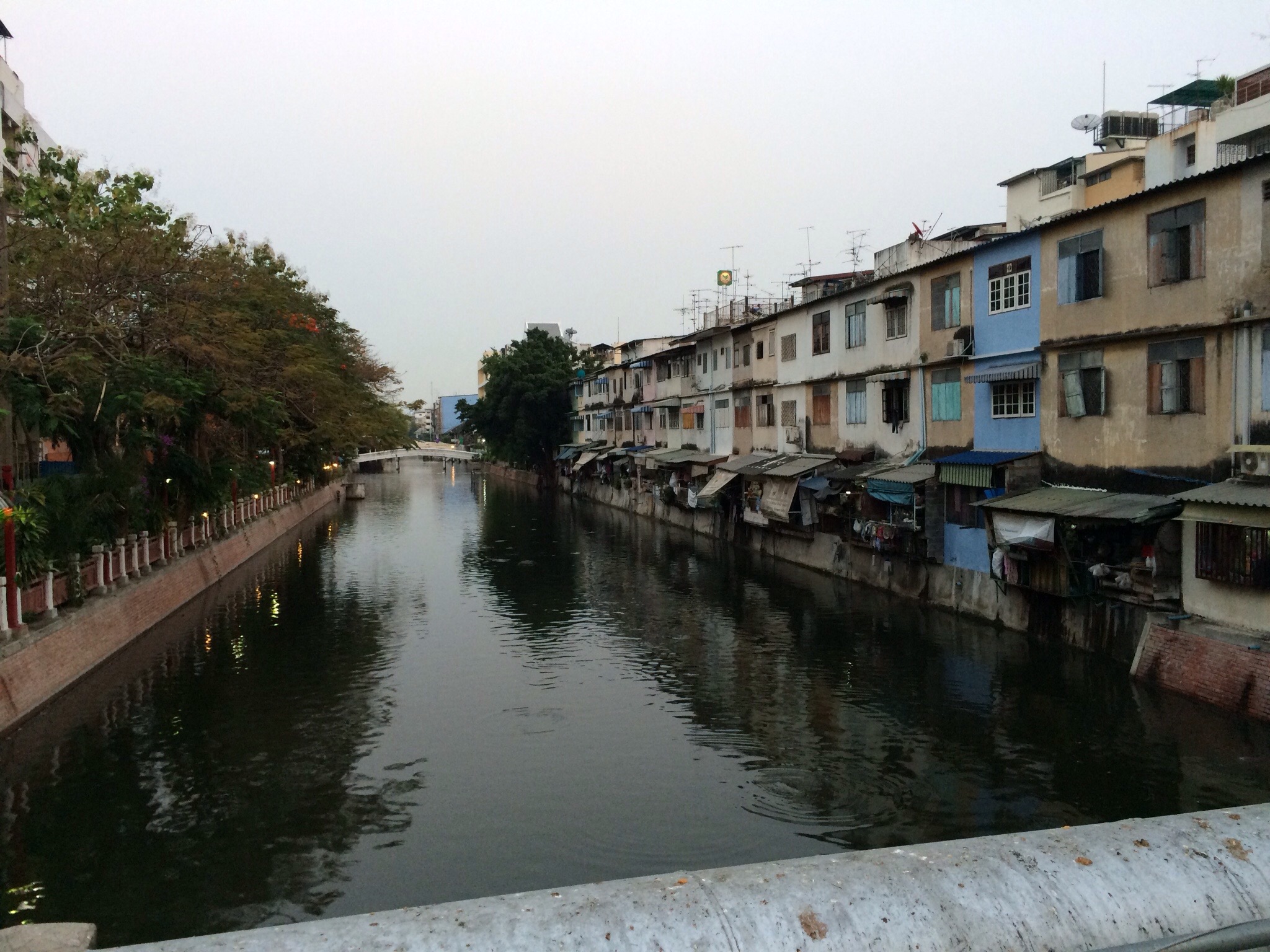 As we didn't have any chance to read up on Bangkok before, we'vem decided to just go for a stroll to slowly get used to the weather and explore the city. We've stayed nearby the famous Khao san road hence our first steps in Big Mango led us there. We wanted to visit this very popular, recommended by many 'backpackers mecca'. On a way there we've stopped for a b'fast/lunch by the canal. We were desperate for something familiar to get us started so i went for 'cheese burger'. I had to triple check when i got my food it had no meat… just the veg's and cheese! Ha! Ok!
Nothing looked familiar. Hundreds of stalls all over the place, every inch is being used to sell anything you can imagine; various fresh fruits, pigs ears, meat on sticks, fresh sea food, numerous snacks and sweets in vibrant colours. Everything out on streets, in the heat. Dried scorpions, spiders and other bugs. Tones of various clothes, backpackers essentials, money exchange, restaurants, travel agencies etc. Plus millions of people (12,000,000 in BKK to be precise) and plenty of tourists from everywhere.
Traffic is unbelievable. Everyone does whatever they please, change lanes, turn whenever they wish and only sort of look out for the traffic lights. Tuk tuks don't do traffic rules period! In order to cross any street the best practice is to just follow locals otherwise you could be waiting at the crossing for hours.
We've started to walk down the Khao San Rd to the Democracy Monument.
What we've heard about Thai people was that they are very friendly and chatty so it wasn't very surprising when they started asking us where we are from, how long we've been here. Jakub was more sceptical and we should have listen to what his gut was telling him.
A
t the crossing we've met a lovely mid age guy, a teacher, he said that he is back from praying at the temples that are today free for tourist. He said he will show us on the map where they are so we can visit them. He asked how much we paid for the tuk tuk last night, that that was very expensive and that any tuk tuk should take only 40BHT for 2-3 hours taking us around these lovely temples.
Yes you are right this is when the first red lights should go off. Funny enough they did a bit but we thought well what could go wrong. You can read a very similar story of how
these two experienced backpackers!! got scammed
just the way we did. But what I can say is that it was a very well planned con involving at least 10 people who we 'randomly' run into whilst visiting  the temples.
That said we've only learned about it afterwards, when we've start checking the company name online. Searching for 'tuk tuk scam in BKK', 'T.I.T scam' etc. shows you how many amateur travellers fell in their traps as well. That forced us into reading up about all the way in which some Thai try to pray on unaware tourists, there is actually a whole section about it in our Lonely Planet guide as it turns out!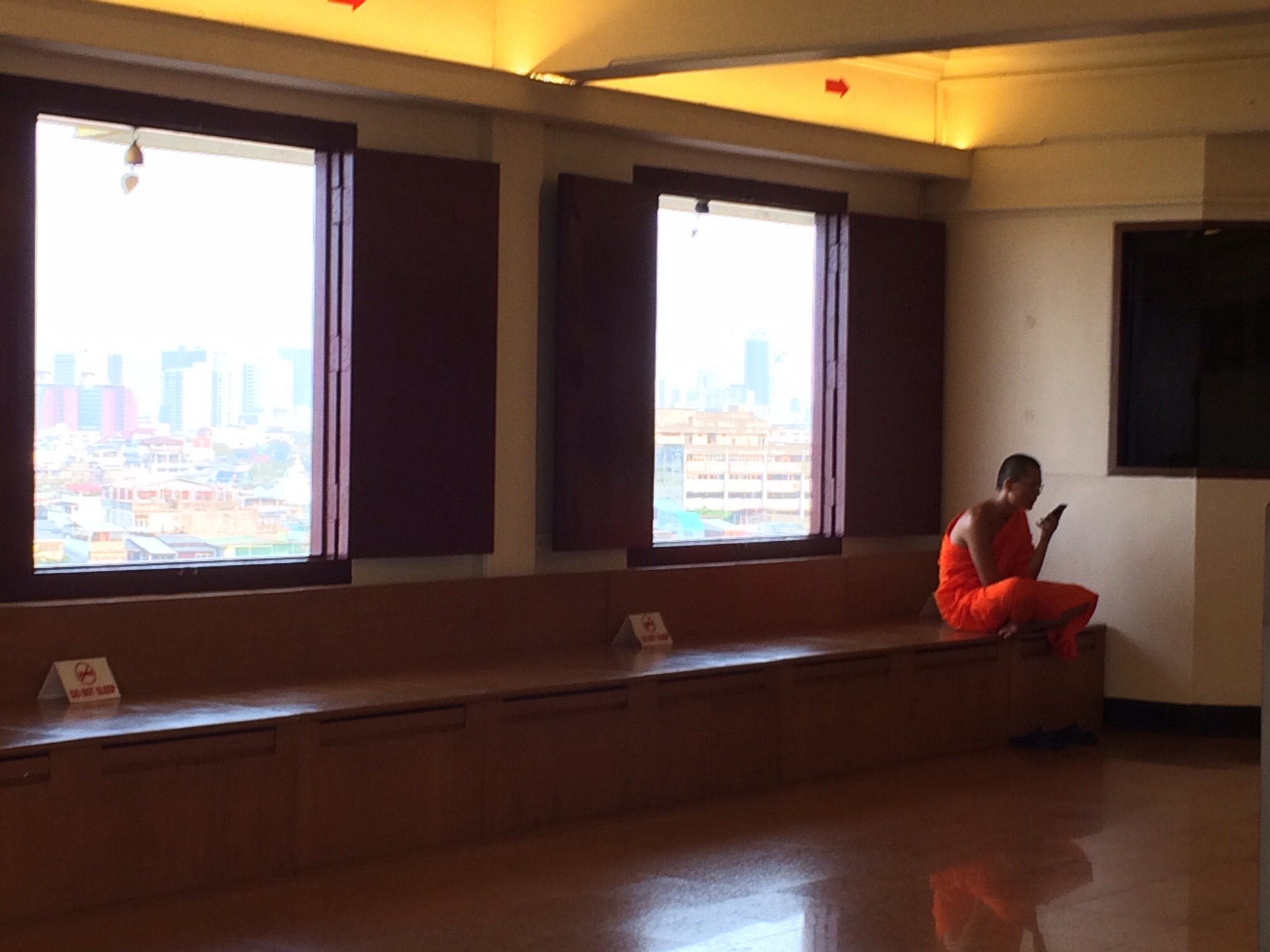 After all we've seen few lovely Buddhist temples and spent about £60 at the shabby travel agency to buy tickets to Koh Tao which we've decided not to use. As the stories go these busses take you outside of towns and get you to pay extra for taxi to city centre etc. We don't know if the bus would actually arrive and do that but we didn't want to find out.
We've lost a bit of money and our pride but most annoyingly we were forced into looking at all locals suspiciously, constantly wondering how much we are overpaying and what service we will actually get for our money. Now the problem is: how do you completely distrust locals and still try to enjoy your holidays, how do you trust your gut if you're not used to expecting the con everywhere, how do you not get taken back by that‽
We came out with few points to remember:
Book your advance tickets yourself online (airplane, hotels).
Don't buy any advance or combine tickets from travel agencies or anyone for that matter.
Only buy tickets if you have seen the room, the bus or a boat that you are supposed to be on.
So first impressions of Bangkok? Very mixed feelings. It's interesting and captivating in a way but very messy, dirty, smelly at times, loud and busy. If I were to describe BKK in one word it would be: chaotic. To a complete newbie like us it all looks totally dysfunctional but somehow it all works. Or so it seems.
18/03
Could not fall asleep until
9 am
! Totally jet lagged! Woke up
at 4pm
! Went for a bit of stroll around the city, close to the Royal Gardens and Palace. It got a bit dark, we got a bit lost… And we ended up in Mc'Ds. It's funny how in a completely new environment, first thing you are trying to do is to find something familiar that you can relate to, something you understand.
I hate organised trips, tourists who only eat food that they could find in their own country, go for Sturbucks coffees and Mc'Ds. But these things are so familiar and we were feeling so lost.
On a plus side we've stumbled upon a lovely small street with only Thai people, who smiled, were truly helpful and genuine. I guess  once you get away from all the touristy attractions, that's were you can find the Thailand that we were expecting to see. Also today's achievement; we know how to cross the streets now! Can do it even without following Thai's although that is still the safer option.
The sun here looks like an orange ping-pong ball with very well-defined line around it. Apparently it's due to the very high pollution. It means also that every now and then you see Thai people wearing face masks which should help protect them from smog but can they really?
19/03
New day, new beginnings. We've decided we need to escape to the south as soon as possible.  Relax, recharge, just chill on a lovely, sandy beach in a fantastic scenery. This is what we need. So the first thing we did was to get to the train station.
We felt brave and decided to use public bus as we could not bear another tuk tuk or a taxi drive. That was actually a great idea! We've met some lovely, helpful Thai people, and some fellow Portuguese backpackers. With help of the locals who showed us everything.
Train station is also a place for selling and conning poor travelers. We've tried to avoid being taken to another agency but obviously police is also on it and they lead us to them – definitely on commission. This time we luckily haven't bought anything and tried again to get to the train ticket office. Got there eventually and bought fairly cheap tickets to Surat Thani and bus from there to Krabi. From Krabi it was only a boat ride to get to Koh Phi Phi.
As we had the whole morning to ourselfs, we headed to the China Town, to the Yaowarat Road, which was absolutely crazy, packed with people, really really hot and exhausting but very, very interesting! We also managed to spent some quality, relaxing time in the Golden Buddha template with an amazing 5.5 ton solid gold Buddha statue. Magical and calming. Just what we needed after last few days in Bangkok.
Train was leaving at 5 pm and we went full on this time – by which we mean 2nd class but sleeping and with air-con! We managed to make all the Thai people around us laugh by trying to open the upper sleeping places that we were supposed to occupy. As it turns out, around 8 pm there was a guy who came over to open this up and put the sheets out for us. Very nice. That night we have managed to finally sleep for a good while. Had to wake up at 4 am to change for the bus though 🙂