We took a bus from Boston and arrived in New York midday Sunday 11th of September. It was 15th anniversary of the 9/11 and I must say being here during this time and visiting the site a few days after the memorial services was a very emotional experience.
I understand that you could do and see way more during 6 days but we've learnt from our South East Asia adventure that when it comes to long term travel if you over do it you will have to take some time off at a later stage anyway. Also we just wanted to take it a bit slower and truly get the feel for the city. Walk the streets, feel the atmosphere and enjoy it as much as we can. Read more for our New York by foot, ferry and bike 🙂

New York by foot
We live in the AirBnb flat in Queens. It takes about 30-40min to get to Manhattan on the train no 7. Today is Monday (12th of September) and we've started sightseeing from Grand Central Station. It is massive as it covers 48 acres (19 ha) and has 44 platforms, more than any other railroad station in the world! What an amazing introduction to New York. One of the most beautiful stations I've ever seen. 
At first we've decided to start sightseeing by just strolling randomly around Manhattan but we've learn quickly that this way we gonna pass by some really nice places without noticing them. So Jakub put together an itinerary and was our tour guide for the day. On our route we've seen so many beautiful places but Carnegie Hall and Time Square were among the most memorable.
Carnegie Hall is such a stunning building! It was built by philanthropist Andrew Carnegie in 1891 and it is one of the most prestigious venues in the world for both classical and popular music. And Time square was absolutely incredible. The pure scale of it! It feels like you are standing at the bottom of a massive canyon created by humans, surrounded by hundreds of flashing, colourful billboards all fighting for your attention. It is sometimes called The Crossroads of the World, The Center of the Universe, and the "heart of the world". It is one of the world's most visited tourist attractions, drawing an estimated 50 million visitors annually! We've been there during the day and during the night and I must say that after visiting it twice we had enough for a long time! 
The end of the day was very surprising. As a last thing that day we were supposed to see Madison Square Garden, a place where all the most famous artists, comedians and games happen. Out of curiosity we've checked the line up for that night. OMG one of Jakub's favourite comedians Louise C.K. was playing at 7.30! Tickets were fully sold out online but we still decided to go there and check if there are maybe any returns. As it turns out there where!!! We got 2 tickets to see Louise CK at Madison Square Garden!!! Very emotional, exited and happy we joined the New Yorkers for an evening of fun! We could not stop laughing for almost 2 hours! Louise C.K. rules!!!
New York by ferry
We wanted to start the next day a bit more lazy so we went on the State Island ferry to see the New York Skyline and Statue of Liberty from the see.
The rest of the day we've spent walking around the Downtown visiting among many: Battery Park, Trinity Church, 9/11 Memorial, Ground Zero, New York City Hall, Supreme Court and Stock Exchange, and ending with the Wall Street and Charging Bull. Especially the 9/11 was quiet emotional. The two memorials; wholes in the ground after the twin towers makes the unforgettable impression. I remember watching the attacks on TV; could not believe these was really happening and today we were standing there. We were considering going to the top of the One World Trade tower aka Freedom tower but out of three options: Empire State Building, Freedom Tower or Top of the Rockefeller Center we've agreed on the latter. However we still hope to try to visit the Freedom Tower in November before flying back to UK.
New York by bike
On the third day, tired of walking, we've decided to do something different. We've rented the city bikes and wanted to go around the Central Park. What an amazing route. We've managed to get as far as the Columbia University. When earlier this year I've started studying Sustainable Development online at the Columbia University I've never though I will actually be here in person and visit the Earth Institute! I was hopping to bump into Jeffrey Sachs, one of the best economist nowadays and pioneer of the Sustainable Development but he moved his office.  What and incredible experience. I am now more than ever motivated to actually finish the course. The last stop of the day was cycling towards the illuminated and busy Time Square by night. Amazing experience! 
On Thursday we started with the sandwiches from the well-known Eisenberg Cafe, went to admire the Flatiron Building, bike around the Chelsey to Whitley Museum stopping at Chelsey Market and Caries's Bradshaw Apartment 🙂 One of the highlights of the day was definitely the High Line. What a great idea to create green space on the old train tracks! We should do something like that in London!
We finish the day with a delicious Italian meal and stroll down to have a closer look at the Empire State Building. As it turned out friend of ours was coming to New York for couple of days so we went to pick her up from the station.
New York by foot again
Friday. This is the day when we finally see the Starry Night by Vincent van Gogh in person and when we 'climb' the Top of the Rock! Plus the plan is we will eat Pizza in Brooklyn 🙂
Long day ahead of us so we will start early by visiting Museum of Modern Art (MoMa). We got the combo tickets for this (you can get to MoMa and Top of the Rock for $50 altogether) but as it turned out MoMa was free from 4PM that day  🙂 Oh well at least we managed to beat the crowd.
MoMa is fantastic! I have not so many famous pieces of art in one place in a long time! I've obviously spent the longest staring at the Starry Night, one of my favourite things in the world. Every stroke of the paintbrush that Vincent took himself… Poetry! It was absolutely pleasure to see The Persistence of Memory by Salvador Dali, Les Demoiselles d'Avignon, Pablo Picasso, Gold Marilyn Monroe by Andy Warhol, or One: Number 31 by Jackson Pollock. Stunning collection of art at MoMa! Absolute must see!
I could spend days at Moma but we have to move on! Top of the Rock! Oh by wait a minute! There is a Lego Shop next to it, let's check it up! OMG you can get a box and pick up Legos like candies!!! I need to get that!!! Oh! We didn't want to wait for the ToR so we've booked it for the next morning and finally took the metro to Brooklyn to have a pizza! And we did have an amazing one at the Table 89 – awesome!!! After a massive pizza it was time for a walk through the Brooklyn Park with a view! What a fantastic skyline!!! Oh! And we finally got to the Brooklyn Bridge!!! 
Ok we need to be at the Top of the Rock for 9.30AM Saturday! And we did! OMG what a stunning view! We've spent about an hour there just staring at Empire on one side and Central Park on the other. Fantastic view! It was also lovely to FaceTime our family and friends to show them the view. Here are a couple for you too:
This is not our last time in New York before we go back to London. We will be coming back in November for Thanksgiving and Black Friday 🙂
We want to see UN Headquarters,Whitney Museum, Chicago the musical and… so many more!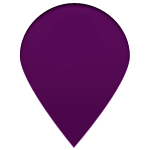 Good place for food!
Here is a link to the full RoadTrip 2016 Google Map. Please navigate to Boston and zoom in to see the above detailed map.